Why?!  Because I get to design the birth announcements for my brand new nephew.  My sister Nancy and her husband finally welcomed their son into a household with 5 daughters!!!  Chris is welcoming the companionship in a sea of estrogen and Nancy is reveling in a whole new vocabulary as she put it "there's a whole new vocabulary in our house… boy, brother, son, lil man…"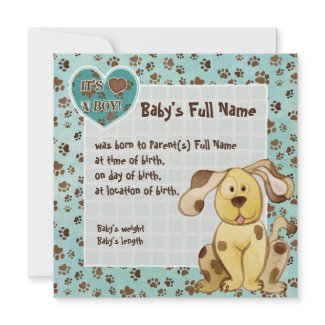 So my task today is to get these set up and ready to go for him.  What a fun job it is to be an Auntie 🙂
Tomorrow I leave to go to Las Vegas for The Licensing Show.  It will be a treat to be with my entire Licensing Agency team.  I haven't met 3 out of the 5 of them and am really looking forward to the time together and the inspiration.  I always come home with a million ideas on the direction I should go and usually very little time to work on those ideas because the requests from the manufacturers are coming in at the same time. If you are going to be at the show and would like to make contact, my agent's booth is #4777 MHS Licensing.  They will know how to contact me so you can leave me a message there.  I will be in and out of the booth.  If you would like to see my portfolio books they will have them there.
By the way, as of yesterday, my existing free-standing digital clip art store has been disabled and all of my art is available in the Aimee Asher Elite digital store.  We had too many technical problems — especially guaranteed to happen the moment I left town, LOL!  So I decided to simply refer things there.  Same prices.  Same art.  Fantastic customer service if any issues arise.  To get there, simply click on the third page down from the top on the right hand side of the blog "Browse Digital products" and it will take you directly to my store front.
I'm off to "play with puppies" and get my nephew's announcement done!


by
by