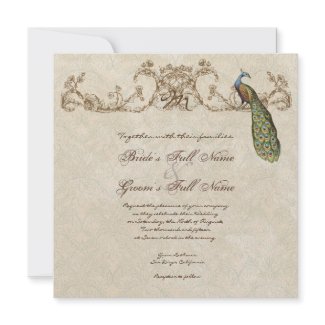 I found this vintage image of a Peacock and immediately thought how elegant and stately it would be on a wedding invitation.  I designed the first with a Peacock blue accent color, but it has been set up on Zazzle to be easily customized by the bride to use any color that fits with her wedding.  All that's needed is the Hex# of the color (selected from your color picker in your graphics program or just ask me), plug that color into the background and in the appropriate text and presto, custom wedding invitation!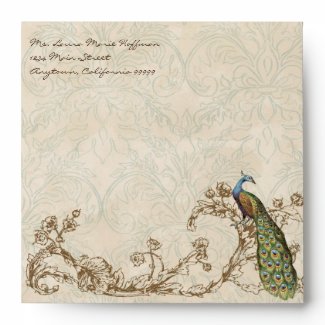 I created a matching envelope as well and then ran out of time yesterday.  The entire suite of products should be available by the end of the week.  The customizable color envelope hasn't been created yet, but I would be happy to create it for anyone needing a specific color combination.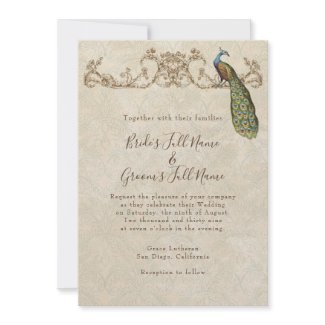 One of the things I adore about Zazzle is that you don't have to have any minimum quantity to do a custom invitation, try that in a brick and mortar store!  The more quantity you order the less expensive the cost per invitation and they ship for a flat fee.  Remember that any invitation can be customized for any event.  If you have a birthday party, you don't just have to look at the Birthday invitations for your party theme.  Also great for 50th anniversary parties or Family reunions.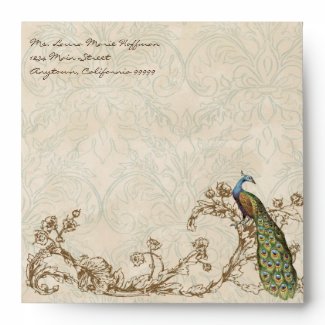 Remember that there are just a few days left in the month to get your comments in for the drawing.  You can comment on any and every post and each comment counts as an entry into the Blog Contest drawing.  The winner gets their pick of a $4.95 kit at my ETSY store.  Good luck!
by
by