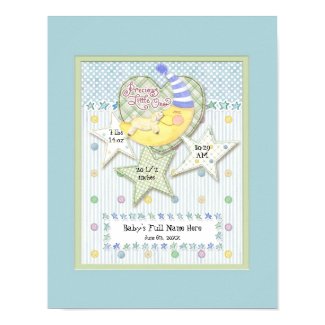 "Precious Little One" is a design with an adorable sleeping little lamb cuddled up with the man in the moon amongst a sky of stars.  The new baby's name, birthdate, weight, length, and time of birth are included.  These designs have been on the drafting board for about a year and I managed to finish them today.  What I love about these is that you can personalize them really easily and the gift will ship to you within 24 hours most of the time, if you order the print through Zazzle!  Simply click on the image and it will take you to more information.  All you need to know is the new baby's vitals and you're ready to order a keepsake gift that can be treasured for a lifetime.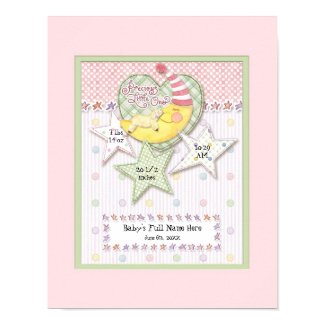 Available in 4 different colors for boys and 4 different colors for girls, these are prints that are suitable for framing.  To create them, we cut a double bevel cut matte, scanned it in and layered it over the image, so the print is ready to frame as is.  OR you can buy an 11″ x 14″ frame with a matte in it and place the print behind the pre-cut matte – a very cost-effective way to frame things as both Costco and WalMart have some really great frames at great prices.  OR you can take the print to your local Michael's Frame Shop or local Framer and have it framed to suit your decor.
If you would like to order these the old fashioned way, from our company directly.  Personalized, framed, double matted costs $49.95.  Print only, personalized is $24.95 through Zazzle.  We do still manufacture them with frames and mattes directly from our company , you can simply email steveataje (at sign) earthlink (dot) net and customer service will take care of it.
by
by