I'm getting prepared for the season… Yes, for the Christmas season, but business-wise for the upcoming Wedding season.  It kicks into gear just about as soon as Christmas passes us by.  I can't believe how quickly this year has flown by!  I have so much that is new, I thought I would do some feature boards to tie in with my new Pinterest account where I'm showing complete theme ideas to coordinate with my invitation designs.  If you're "creatively challenged" and have a hard time envisioning how things would work together, I hope they'll be of help!
If any of you are looking for a specific design motif or color I don't have, I'd love to hear from you.  I'm always looking for upcoming trends.  If there's one you've been noticing, I'd love to have you comment and fill me in on the details!
These Peacock Feathers Wedding Invitation Ensemble or Suites are available in a wide variety of color combinations including: Black, Royal Blue, Teal, Medium Aqua, Light Aqua, Purple, and Green.
If you don't see the color you would like to use for your wedding, I can create an entire collection to your specifications.  Just go to my Zazzle store and you'll find a "contact" email button.  I'm happy to help out.
Any invitation set can also be converted for parties or other occasions such as Mardis Gras.  You can do that when you add your personalization or I can help.
Here's the link to my Pinterest Board on Blue Peacock Wedding Inspiration: http://pinterest.com/audreyjeanner/peacock-inspired-wedding-blues/ Come take a peek!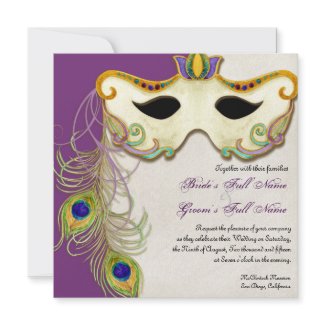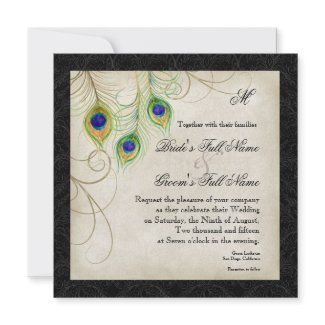 by
by