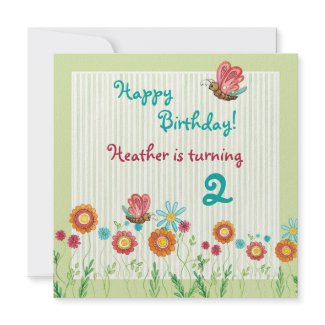 LINK TO BIRTHDAY PARTY INVITATION IN THE STORE
Before I left town last week I had a "play day," which is what I call it when I don't have any particular assignments on my desk and I just feel like drawing and painting whatever comes to mind.  This little girl contemporary whimsical floral art is the result.  It is available in a variety of formats for birthday party invitations and soon will be available for baby girl birth announcements and baby shower invitations.  Just click on the link above to go to the store if you would like to see it and the other products offered.
ON THE PERSONAL SIDE — FAMILY MEANS EVERYTHING DOESN'T IT?  I'm pretty sure I'm not alone in regretting that we don't get to spend enough time with those we love most in this world.  Sometimes the requirements of making a living get smack in the way of enjoying life 🙂  However, this past week was spent with a wide assortment of family members.  Some we haven't seen in years and some we just met for the first time — all were enjoyed and loved very much.
Our son Scot and his new bride Naomi, joined their hands in marriage this past Saturday.  We wish the day could have continued in the old testament version of the 7 day wedding feast.  It all goes past way too quickly and suddenly the day you have awaited for months is well on its way to becoming a memory.
We had a delightful time meeting Naomi's family and enjoying the talents of her mother, Patricia.  Patricia pulled together not only a beautiful event — but had to change venues the day before the wedding due to the intense thunderstorms and rain.  So the outdoor reception and wedding in a charming classic white chapel was suddenly moved to the larger (and drier) sanctuary.  The move transpired with only a slight hitch here and there and in the end no one that attended would have thought that this venue was "plan B!"  Congrats to her and her family.
My camera was eating batteries so I will try to get photos from my kids to post a little later in the week.  Our son, Scot shed a tear as his beautiful bride came down the aisle and they really didn't need lighting for the stage, as Naomi's shining countenance lit up the entire church.  We couldn't be more pleased with Scot's choice of a wife, she is a wonderful mother, a true friend to her new husband and has a delightful sense of humor to boot.  Welcome to the family Naomi!
We also had the pleasure of spending some time with Brownlow Gifts' design team while we were in Dallas.  They are one of my favorite companies to work with not only because of their incredible quality of product and  creativity of design, but because of how darn much fun we all have together!!!  Thanks for the laughs and the warm welcome.
by
by