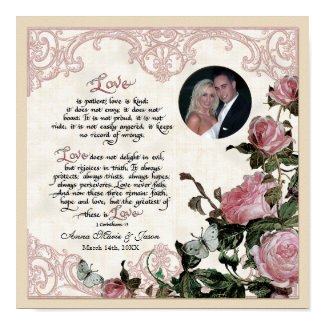 NEW!  Personalized art prints suitable for framing.  Available for wedding or anniversary gifts.  Personalize with your names and dates.  Sizes available both 11″ square (fits nicely on a 12″ scrap book paper in a 12″ scrapbook) and 12″ square (fits stock frames designed for scrapbook pages).
I began my business many years ago as a calligrapher.  At the time I didn't know how to paint or draw.  In designing calligraphy pieces for people I discovered that I needed to find ways to add color and interest to them and thus began my journey into the world of art.
For many years we had a framed print line that we sold at craft fairs all throughout the state of California.  Our favorite being the Harvest Festivals.  Not a fall passes by that we don't reminisce fondly about those days (amazing how memories of the pain and exhaustion passes after time, LOL!)
We also wholesaled our product to about 4,000 stores during the 90's and up until 2006.  At that time it simply became too much to manage with the growth of my licensing business and the time commitments that were involved.  We have continued to sell to individuals over the years and have made dear, dear friends with many of our repeat customers – you know who you are 🙂
With my venturing into Zazzle this past year and especially with my growing wedding invitation business, it's been much on my heart to bring back the calligraphy line but in a new way, with new art for a new generation.  Today is the very first piece that I am releasing.  These are being sold as prints that can be framed or displayed in a scrapbook.  You can order them and take them to your local Michael's or frame shop.  They can be framed without mats or matted and framed as suits your decor.
Look for many more in the days and months to come.  What I love about this option is that I can do 30 or more versions of 1st Corinthians 13 and not have to have a catalog that shows them all!  The next designs to come will be my best sellers "Lord, Help me to Build a Healthy Child" and "To Build a Lasting Love."
Also shown in this post are the Wedding Invitations that match.  This collection is called "Trellis Rose Vintage" and has a wide range of wedding related products created to match.  Perfect for spring and summer weddings, the collection will be fully finished by the New Year.  Click on any picture to go to that item in the store.
by
by