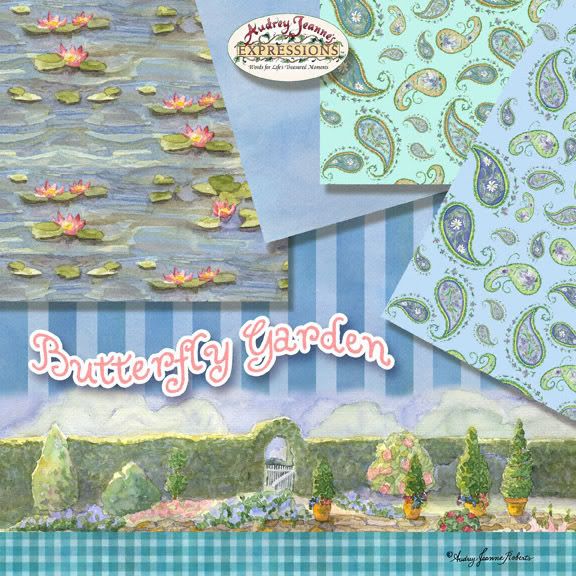 This "Butterfly Garden" paper pack is available this morning at www.daisiecompany.com. You can go to the kit by clicking on the picture to the left and a window will pop up that will take you there.
Deb D wrote me a comment this morning that I must be really busy because I'm falling behind in my blogging. She's so right! I spent my week working out a new fabric line for a new license I'm doing. The line will be available in quilt shops across the nation once it hits the stores in September and will be shown at Quilt Market in October. The work involved designing the patterns for 9 fabrics and 2 color ways. I can't tell you yet what it is, but I'm very pleased with it and with the fabric company's art direction for it. I think it's going to be both very fun and yet elegant and contemporary all together.
When I get a large project like that, everything else in my life seems to grind to a halt and back up. Can you identify? So what do I do? I take on another challenge… you've got to wonder sometimes about my sanity, LOL!
This challenge will ultimately help me though and maybe you too. I've been working with Abigail Scott DESIGN Studio on a new day planner they approached me about. They're using my hummingbird art and asked if I would help them design the function of the day planner. It has really helped me to think about how I work and how I can work better. I've been thinking a lot about working my priorities into each day, not just the urgent tasks that need to be done. I'm using the first version right now to test its functionality and when we're comfortable with it, they'll polish it up and get it into the store. I think those of you that are overwhelmed and disorganized at times (like me) will enjoy this set. Having beautiful art to look at makes the task of organizing myself a little more tolerable, LOL!
Last night, my youngest daughter, Jacqui came and chatted with me about feeling overwhelmed and unsure that she's getting anywhere in her goals on life. I think that these concerns plague all of us, from the young to the old. How do I know that what I do today is important, not just urgent? How do I get everything done that needs to be done and still have time for me? What would I do if I had "me" time?! Most of us don't have a clue!!!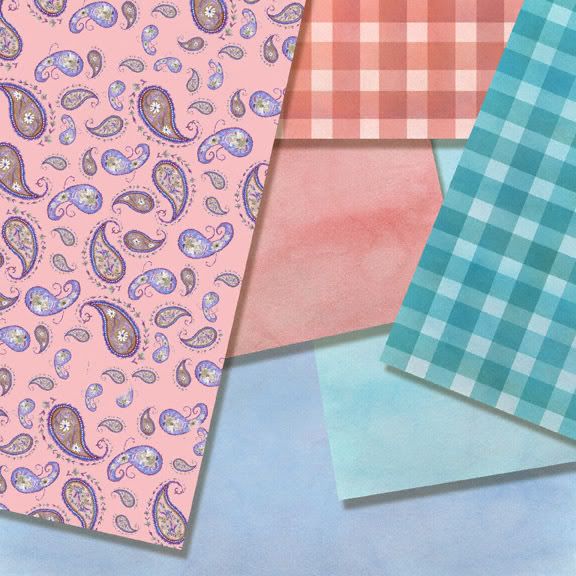 In the Day Planner, I've set up project planning pages which I'm using for everything from garage/shop clean up to redesigning my framed print line and getting my web site up (the most important project that is still lagging behind) Using these have helped me to get my thoughts down on paper and filed where I can locate them again. In a way, it's taken the load off of my brain because I don't have to "remember" the information anymore, it's written down.
Part of the process is writing down the steps to accomplishing the goal. I just do a brain dump not worrying about if the steps are in order or not, I can look the list over and tackle the project a step at a time and then check that step off the list. It's amazing how doing a few little steps on several nagging projects has made me feel more accomplished and even rested this week. I was shocked at how little time it actually took once I had written it down and purposed just to do a little. It seems like I'm keeping my life more in balance this way, tackling projects from every area of my life a little at a time. Usually I tend to go intensely into one area and neglect the rest 🙂
Here's my thought for the day: ONE CHOICE AT A TIME… get control of your life one small area at a time. Don't worry about yesterday or tomorrow, just determine to make the next choice you make the right choice. (Audrey Jeanne Roberts)
THE SCRIPTURE OF THE DAY: Ps 65:3-5 When we were overwhelmed by sins, you forgave our transgressions. Blessed are those you choose and bring near to live in your courts! We are filled with the good things of your house, of your holy temple. You answer us with awesome deeds of righteousness, O God our Savior, NIV
The word "sin" is a word picture of missing the mark as an archer shooting at a target. Most of us are perfectionists at heart, but when we aim at perfection, we all "miss the mark." It is not possible to achieve here on earth, but the heavenly standard is perfection. We all sin. We all are "sinners." Only Jesus lived a perfect, sinless life. He doesn't hold that over our heads, he offers instead to live his perfection out in us. He gives us the power and the strength to live a more perfect life (never achieving perfection but coming closer and closer to hitting the mark) the more we trust and abide in him.
PRAYER: Lord, I am overwhelmed at times by how far I am from living the life I imagine I should be. I try and try to get life under control and only feel all the more overwhelmed at my inability to do so. Bring me close to you and help me to live my life "in your courts" in your presence, power and through the perfection of Jesus' life lived in me.
Remind me of all your blessings, the good things you have done and will continue to work out in me. You truly do answer my cries for help with awesome deeds of righteousness and you are My God and My Savior! Jesus, come into my life and begin living your life of perfection out in my humble heart. AMEN
by
by