There's three more days left to enter in the Free Clip Art Contest. Just read back through this month's posts and leave comments. The way it works is that we draw the # of a day and then look to see how many posts there were that day as sometimes I post more than once a day. Then we draw the # of the post and the # of the comments, so those that read and post each day have a much higher chance of being selected (or go back and comment throughout the month if you're late to the process
) The winner gets their choice of the two Tropical Breeze Scrapbook Quick Pages Kits shown earlier in the month.
Here's the additional product shots for Tropical Breeze 2 and there's a preview of a set of Premade scrapbook pages for Summer Fun 1 that also will be coming out tomorrow.
It took an insane amount of time, but I carefully clipped out each and every palm tree or palm cluster from 4 different paintings so that they are incredibly useful.and flexible for your layouts..
There are also a couple of wide borders with torn edges and a wavy stitched border.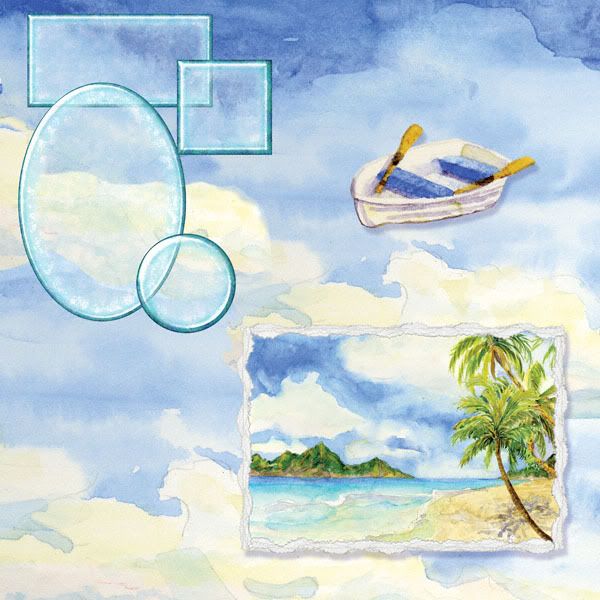 This cloudy blue sky can be used for a lot more than beachy crafts. It was createded painstakingly from 3 different paintings. it has a similar purely beach and waves paper that I haven't shown.
The Summer Fun kit makes great summer scrapbook pages. If you have pool shots, days at a waterpark, photos of your kids running through the sprinklers or any watery fun to document these pages are great for them.
Don't forget to take lots of pictures as you enjoy your summer and think about what you want to scrap BEFORE you go play. It can make things so much easier than trying to figure out what you want to do with the photos afterwards. When you plan the shots that you would like to have you get much better results and avoid the "Oh no, I didn't take a picture of….!"
Audrey Jeanne Roberts
THE PROVERB FOR THE DAY: Proverbs 28: 1-2 "The wicked are edgy with guilt, ready to run off even when no one's after them; Honest people are relaxed and confident, bold as lions. When the country is in chaos, everybody has a plan to fix it — But it takes a leader of real understanding to straighten things out." The Message
by
by