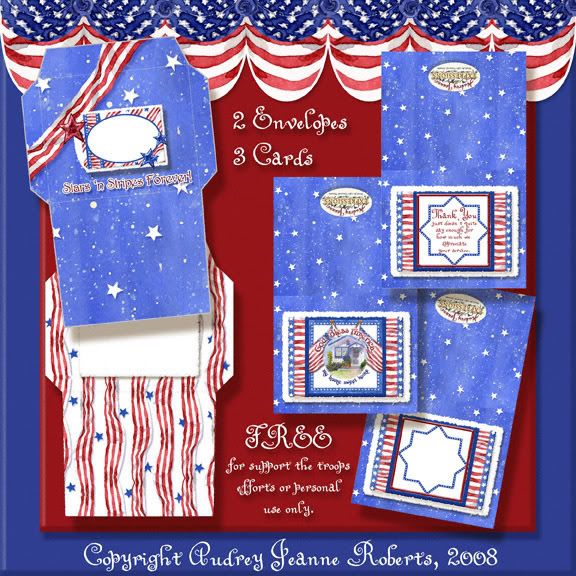 With Independence Day (in the United States) coming in just one month, I wanted to create a kit that I have had on my heart for a very long time. There are wonderful people and organizations all over our nation that are doing whatever they can to make sure our troops overseas know that they are loved, supported and appreciated.
In my own tiny church there is a large group of mostly women that have been doing an incredibly good job at this. The ministry is called "Love our Troops," and they send personal notes in greeting cards, care packages and make handmade cooling scarves to express their love and encourage the young men and women that are serving the Afghani and Iraqi people as well as protecting our nation.
Though our family has sent dozens of cards, because of my schedule I haven't been able to do as much as my heart desires. I began to think about how I could enlarge the effort and realized that I can create a kit that just might facilitate a lot of other people to make cards and send them!
This kit contains 3 greeting cards, one is blank for your own message and two matching envelopes. It is FREE for personal use or for organizations that will be encouraging the troops. You can download the kit by clicking on the picture at the top of this post and a window will pop up from 4shared.com. When you click on that window it could take a while for the download button to appear at the top left of the page (a couple of minutes if you have slower internet service). All you have to do is click on that download button and select a place to download it to on your hard drive.
For those of you who will send these cards out, bless you!!!!! Oh, and if you believe in the power of prayer, take a moment to pray for the service member that you are sending it to.
The BLOG CONTEST WINNER FOR MAY IS the first commentor on this post: http://www.daisiecompany.com/blogs/audreyjeanne/?p=367
by
by