One of the most delightful parts of my job is looking at weddings – lots, and lots of weddings!   I study color, design,and especially the "feel" of where the style is going.  One of the fun directions is towards elegance with a touch of bling.
This new "Diamonds & Lace" Collection is available in a wide range of color selections, including Black & White, pinks, purples, and several colorways of blues.  Blue is the big color story looking ahead to 2012.  Everything from a rich navy to soft baby blues and especially mixed together in unexpected ways.
There is also an option to custom color the front and reverse in two different colors – simply email me and I'll walk you through the process.  Is your wedding hot pink & black – blue & green – golden yellow & grey?  We can do it for you!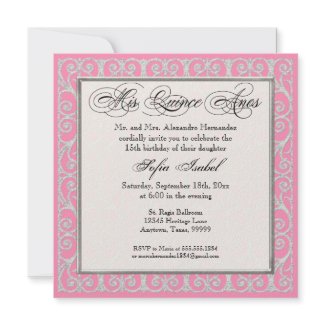 All invitations can also be customized for any other occasion such as Quinceanera, Sweet 16, Graduation, Anniversary parties or any occasion you require.