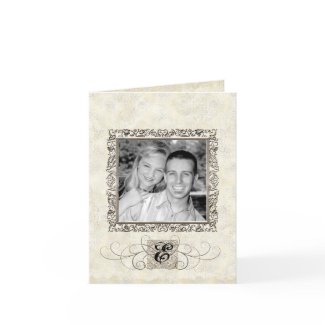 Yesterday I released a new "Golden Age of Elegance" and today I am previewing the vintage Silver version.  This can be used as Thank You notes, wedding correspondence, shower invitations and more.  Both the Silver and Gold versions can be used for Twenty Fifth (25th) Wedding Anniversaries and Fiftieth (50th) Wedding Anniversaries.  Imagine a classic war bride black & white in the photo frame – stunning!  I will design them as finished products for anniversaries but if anyone needs them now, just go to my wedding section>cream, neutral, brown and you'll see the entire collection.  Change the text to reflect your occasion, substitute your picture for my daughter and son-in-law's (aren't they adorable?!) and you're ready to go.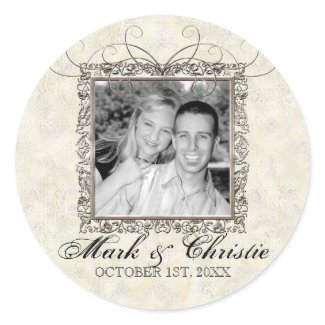 Stickers or Seals can add that finishing touch to the outer envelope.  There are easy ways you can add that special touch to your invitations.  Try adding a thin, matching ribbon tied in a beautiful knot.  Make sure you move the text above and below where you want the ribbon to tie.  If you add ribbon make sure you take them to the post office to be hand processed.  We can also work together to design an invitation that utilizes the stickers and ribbon under the picture on the actual invitation.  I will try to digitally mock that option up and update this post later.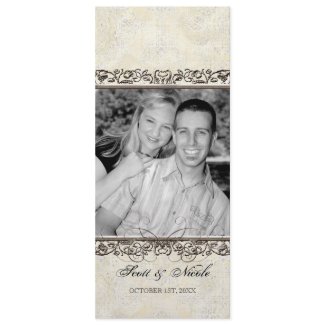 These Menu Cards or Wedding Program Cards are in a wonderfully different elongated rectangle format.  They are also available in wedding invitations.
There is no real metal in these invitations all of the aged,
by
by