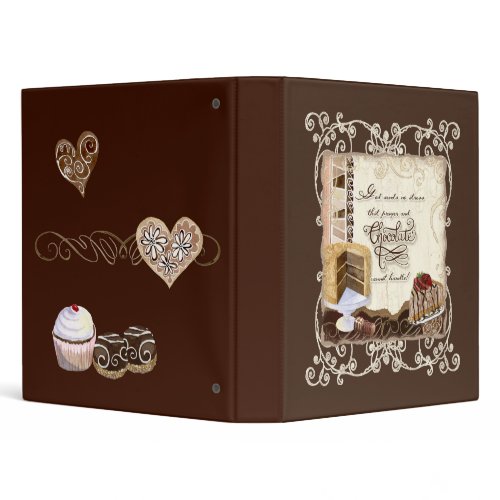 A custom designed, chocolate brown binder with chocolate art scattered across it.  The text reads: "God sends no stress that prayer and chocolate can not handle!"  On a personal note, I love the chocolate brown cover to hide "less than tidy" fingerprints as I am one MESSY cook! You can customize the cover with a name, title or any message you would like to add — which makes it a fabulous option for a wedding gift for a new bride.  LINK TO RECIPE BINDER IN STORE
This binder is available in 1-2″ sizes depending on which you would need to contain all your sweetest dessert recipes.  If you have already bought any of my chocolate digital clip art, you can easily create your own pages to go in this book and make a fabulous gift for a Mother, Grandmother, friend or a family recipe collection book.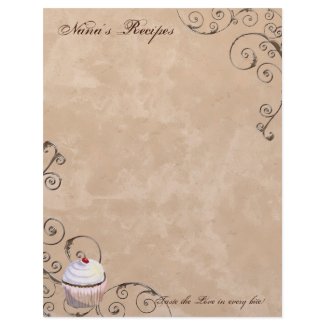 For those not quite so digitally inclined, I've created 3 separate page layouts to coordinate.  They are printed on 80 lb. letterhead quality paper and come 10 sheets to a pack.  You can mix and match the papers to create your own family heritage scrapbook recipe collection.  LINK TO RECIPE PAGES IN STORE.
You can also buy full page sheet protectors to put your recipes in and keep them clean and beautiful for a lifetime of use.  I love a full page size recipe format as it gives lots of room to type out the recipe.  If you create your page and type your recipe, you can print it as many times as you want to give to friends and family.  It's a wonderful way to pass on the sweetest parts of your family heritage.
by
by