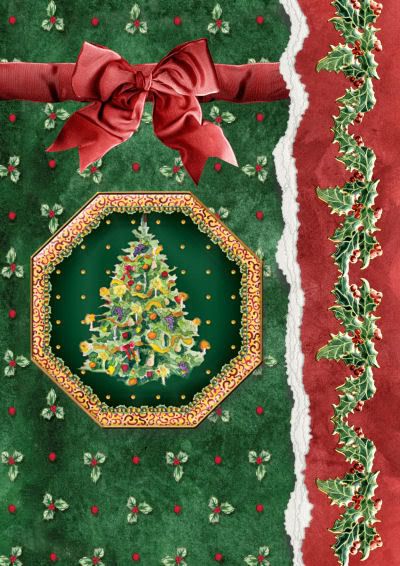 A very lovely Christmas card created by "Shazbar." As a prize, she will win her choice of my Victorian Christmas Gift Bag set or my Peony Cottage Giftbag set!
Just so you know, no talent at all is required to win the weekly drawing (though it's obvious that Shazbar has plenty of that!) All you have to do is create an item that is being given as a Christmas gift or could be given and make it using my digital art kits and upload it to THE DAISIE COMPANY gallery
I hope you'll take a little time to browse through the contestant's entries and leave them some encouragement. Perhaps you'll also pick up an idea or two along the way.
I'll be sending out the prizes from the last week in just a few moments so if you're one of the winners, look for an email from YouSendIt and your goodie will be there!
Today, I'll be working on some overdue kits for Daisie… one will be in next month's Club kit and 3 more will be Bingo prizes! Then I've got to start working on my next set for the store… Whew! It's a good thing this is fun work because I sure have a lot of it. Have a great weekend!
THE PROVERB OF THE DAY: Proverbs 22:9-11 A generous man will himself be blessed, for he shares his food with the poor. Drive out the mocker, and out goes strife;
quarrels and insults are ended. He who loves a pure heart and whose speech is gracious will have the king for his friend. NIV
by
by