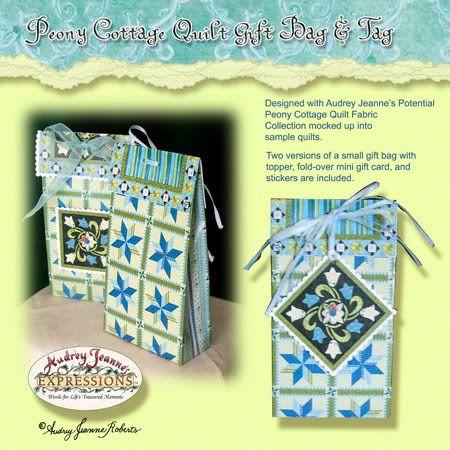 For those of you not familiar with The Daisie Company's Message Board, there are several games during the course of the month where you can win free digital clip art gifts. One of those game is a Bingo game that begins at the start of each month. This coming month, I will be supplying the prizes for the game and there will be three of them. If you don't play the game, these same kits will be available in the store, the beginning of November.
I created these Peony Cottage Quilts as a test for a potential fabric line (not yet licensed if any fabric companies are interest
) They turned out so cute that I've since developed a few sets of stationery goods based upon them. I plan to create an entire art set in both the blue color way and the pink color way once I have the time to create again. Right now I have 3 major licensing projects in the air at once so there isn't a lot of "play" time to be had!
If you go to http://www.daisiecompany.com/forum/viewtopic.php?t=20021 you can find out all the details. Have fun!!!
THE PROVERB OF THE DAY: Proverbs 25:4-7 Remove the dross from the silver, and out comes material for the silversmith; remove the wicked from the king's resence,
and his throne will be established through righteousness. Do not exalt yourself in the king's presence, and do not claim a place among great men; it is better for him to say to you, "Come up here," than for him to humiliate you before a nobleman. NIV
by
by