(UPDATE: This kit is now available for $6.48 at the Daisie store. Just click on the first picture to go to the store.)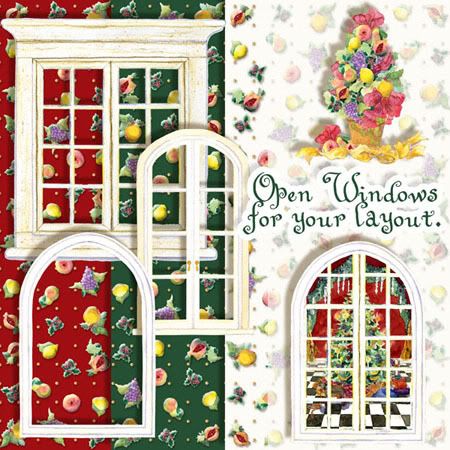 These are the three remaining product shots from the "Windows on Christmas" collection that will be in the DAISIE COMPANY store next week.
Here you can see the windows without their illustrations behind them and one window with a beautiful swag and crystals hanging inside of it, framing the view of the classic English Christmas tree inside.
The papers shown behind the windows are Chrismas fruits taken from the fruit topiary to make creating a Christmas card or tags super easy!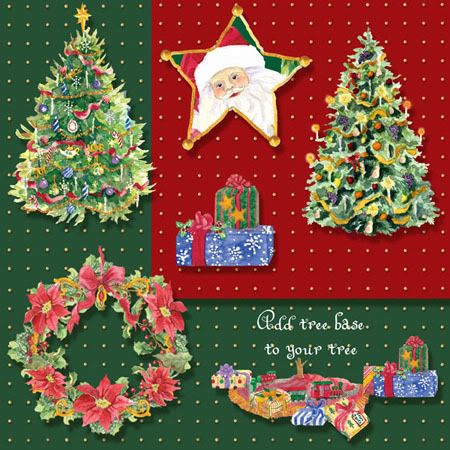 The second product shot shows a couple of Christmas trees, one featuring fruit and the other assorted ornaments. Also included is a separate set of presents on a tree skirt with a toy train running around it that you can use on any of my trees (or any tree you might have). There are also packages that are separate and a jewelled Poinsettia wreath..
And finally there is a Christmas card front, a santa star ornament and a couple of additional papers. This kit is really, really easy to use… virtually every element combines to work seamlessly together. It will also combine extremely well with my earlier "Holly Berry Christmas" kits 1 and 2 and their paper pack. Several of the elements are isolated in this kit that were in a complete illustration in the earlier sets.
I hope you're starting to think about the gifts you're going to make for those you love this coming Christmas… I sure am!!!
THE PROVERB OF THE DAY: Prov 15:10-11 Stern discipline awaits him who leaves the path; he who hates correction will die. Death and Destruction lie open
before the LORD — how much more the hearts of men! NIV
A word of explanation here, how often does disobedience lead to death, destruction or terrible tragedy? Think of drunk driving, a drug overdose or a rebellious choice to run away from home and into tragic circumstances. God's heart is like any good parent's, He longs for good things for His children, but allows them the free will to go their own way if they insist on taking the road to destruction. Any rule He has made is for our own protection and blessing, just as a good parent doesn't allow a child to touch a burning stove. This proverb is a warning given in the negative for greater impact, but you could easily turn it around into a positive instruction like this: "Blessings await those that delight in pleasing the Lord and following His commands, she who delights in His instructions will avoid much sorrow. Blessings and honor lie open before the Lord — how much more the hearts of man!"
by
by