(UPDATE: Now available at the Daisie store for $6.98. Just click on the picture to go there.)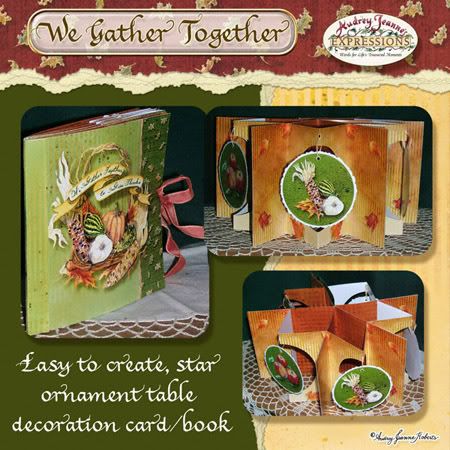 I've had a llooooonnnnnggggg day! I completed 4 separate kits for THE DAISIE COMPANY, one is for October's DAISIE Club and 3 are printable craft kits for the Fall/Harvest &Thanksgiving seasons so I wanted to get them out as soon as physically possible! I'll give you a sneak peek here of one of the printable creations I put together today and it was so much fun! It looks hard, but couldn't be much easier. It's sure to impress your Fall guests all the way through to Thanksgiving. It will be in the shop next week some time.
Before I turned in for the night, I wanted to say Hi! to all of you and tell you a little bit more about my trip to the show. One of my favorite things about being an artist is getting to meet other artists, designers, authors and industry professionals when I travel to shows. Some are "famous," some are "yet-to-be-discovered," and most are somewhere in between! All of us are like bats that have flown out of their caves and are squinting in the sun light. We tend to work too long, too hard and spend most of our lives locked away in front of our computers, so when we get out to show… look out! It's time for some fun!
I mentioned earlier that I had the privilege of spending quite a bit of time over the 3 days with many different people who work at CK Media (Creating Keepsakes Magazine, Simple Scrapbooks, Digital Scrapbooking, Room to Room & many other magazines of particular interest to crafting and scrapping people). As an organization I found them to be characteristically bubbly, fun, and excited about what they do. Each had a passion for scrapbooking, creating a beautiful home environment or expressing their creativity in ways that will bless their families. I found each staff memberto be very warm and welcoming to everyone that they encountered.
One of the warmest of the individuals I met from CK Media was Renee Pearson. She has a smile that lights up her face and goes absolutely Las Vegas Strip neon when she starts to talk about Digital scrapping! Renee is the Online Managing Editor of Digital Scrapbooking Magazine and the author of two of the books I was fortunate enough to receive signed copies of. "Digital Designs" and "Digital Designs 2" are sure to become workhorses in any studo and they were designed to be kept right next to your computer for a lifetime! Even the covers are tough and durable for the wear and tear that they are certain to experience.
Inside, Renee's instructions are simple, precise and accompanied with illustrations and screen shots so that you can easily follow along and begin to create some truly amazing things. The topics in book 1 are, Photo-ready Templates, Using Simple Digital Schemes, Creating Your Own Digital Simple Schemes, My Favorite Tips and Techniques, and What to do With Your Finished Pages (and Other Stuff!) In book 2 she covers creating backgrounds, embellishments, and also using brushes and other special effects.
Renee uses Adobe Photoshop Elements in her instructions and focuses her topics on tips and techniques that a scrapbooker or crafter would definitely want to know. I'm hoping that a lot of what Photoshop Elements is capable of doing is transferable to the standard Photoshop so that I can take advantage of her expertise. There are CDs included with each of the books. She has a delightful blog at www.reneepearson.typepad.com and you can find her books there at http://www.simplescrapbooksmag.com/shop/item.ihtml?idx=549 . I hope that those of you who are longing to know more about what your computer is capable of doing will invest in one or both of Renee's books.
More tomorrow, I'm off to bed!
by
by