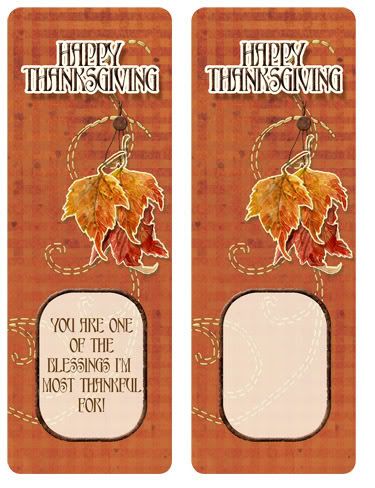 I LOVE FALL!!! I love all of the seasons for different reasons, but because I just really don't like the hot, hot, hot days of Summer, I welcome the change to Fall like no other season. When I got home from the Las Vegas Memory Trends Scrapbooking Show a couple of days ago, the weather here had turned cool and now we've had stormy skies and 60 degree temperatures. Right up my alley, now all I need is a foot of snow (I know, I'm a sick puppy!)
If you click on the image above, it will take you to a site where you can download the bookmarks. On the right hand side of the screen about 3/4 of the way down you'll see a small button labeled "download." All you have to do is click on that button and follow the directions from there.
I've been working all day on my kit for the DAISIE CLUB next month and it's all about Harvest and Thanksgiving. Which got me thinking about how thankful I am for all of you regular readers (about 500 or more a day on average!) This blogging experience has been an amazing one and I feel that I have grown so much through it. I've made some wonderful friends, had a lot of fun and enjoyed sharing my life with you in the process.
These bookmarks are a free gift from my heart to yours. I hope you'll enjoy using them to say "Thank You" to all the special people in your own life. The simple two-word sentence, "Thank You," goes a long way in relationships. Even if you have told someone before how much you appreciate them, you can't say it too much.
Feel free to let anyone you know would enjoy this gift know about it, but please send them here for the link to the download rather than simply passing the file along. I'd like to meet new people as we're entering a new season.
Happy Fall!!!!
by
by