(UPDATE: Now available at the Daisie store for $5.98. Just click on the picture to go to the store). Well, after a good night's sleep I'm feeling ready to tackle the crazy list of projects that need doing, but not before I show you a little bit of what's coming in the next week or so. I designed 3 crafting kits for decorating your home, office, school or other location for the holiday season coming ahead.
This first of three kits has a Thanksgiving card that can also be used as an invitation to a party or family get together and a Thank You note that also comes blank to create your own personal message. I love to send "Thank You" notes around the holiday to the people who share my life telling them what I'm thankful for about them. If you've never done it, you'd be amazed at what a little bit of time invested in thanking others can mean in their lives.
T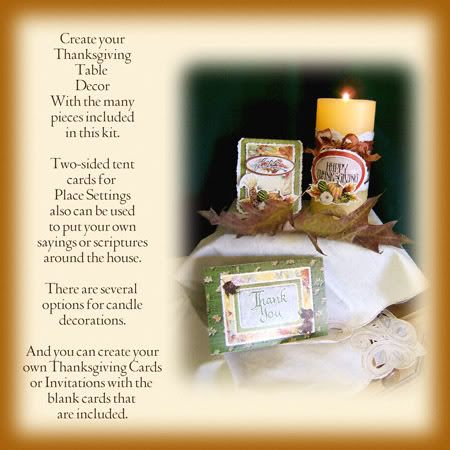 here is also a 3D magnet and a 3D tent style place card for dinners or special events. Also, I've created two options for decorating candles and a circular mat to put under them. Each of the three craft kits will work together to create a great environment that reminds us of our blessings and all that we have to be thankful for during this coming season of Harvest and Thanksgiving.
If you've been looking for a Halloween kit from me, I have to confess that I've just never been much of a Halloween fan (believe it or not, even as a child!) I just don't have much inspiration for that holiday so I'll leave it to many of the other wonderful artists at DAISIE COMPANY!
I do, however, love the Harvest/Thanksgiving season for what it stands for. I have the same challenges that you have… family struggles at times, wondering how I can get more hours in my day, or how I can ensure my children will do well in life. Yet I find that when I focus on what I have to be thankful for, the struggles seem to feel as though they shrink back to a manageable size. I try to work hard, all year around, to convey my thankfulness to those I love, to those I'm privileged to work with and of course, most importantly to my incredible Heavenly Father.
PRACTICE THANKFULNESS… that's what it takes, practice and lots of it! Listen to your mental thoughts. Do you seem to see the downside of every situation, every possibility, every relationship? If so, your natural bent may be to see from that perspective, but it doesn't have to be where you choose to focus in the future. I grew up in an environment like this. It will probably be very surprising to those of you who know me now, but in my early years I was a very negative person. Virtually every conversation I was surrounded with growing up was a discussion about the negative characteristics of people and situations around us.
Until one day, when I was talking on the phone with several friends and for the first time I heard myself, REALLY heard how negative I was — and hated what I heard. I was complaining about this, critical about that, negative about every situation…. and on and on and on. My friends weren't negative and I felt how my communication was a drag on them. They didn't participate back with me, but just left my comments hanging in mid-air. It made for a very one-sided conversation that finally made me realize I needed to change.
The Lord spoke to my heart that day. He said that I didn't have to live the rest of my life in that place if I would let him change my heart. It didn't happen overnight… in fact it took years. But when I asked Him to help me hear myself and see myself as I really was, so that I could see what I needed to change and then ask him to change me, He did. So much so, that now my nickname in my family is "Pollyanna!" In the process, this verse became a life verse for me. It's one that I read often and work hard to put into pracitice in every area of my life, I hope you will too!
THE SCRIPTURE OF THE DAY: Phil 4:8-9 Finally, brothers, whatever is true, whatever is noble, whatever is right, whatever is pure, whatever is lovely, whatever is admirable-if anything is excellent or praiseworthy-think about such things. Whatever you have learned or received or heard from me, or seen in me-put it into practice. And the God of peace will be with you. NIV
by
by